Streamline your skincare routine with Obagi skincare systems. We should all know by now that there are some skincare essentials that you mustn't skip out on in your skincare routine – cleanser and an SPF (30 or higher) moisturiser. Using a complete Obagi skincare system will boost the overall health of your skin and help optimise results when treating a certain skin problem.
Obagi has a variety of medical-grade skincare systems suited to a range of targeted concerns to meet your skin's unique needs. Take a look at our complete guide to our favourites here.
Obagi 360 System
Best for: Early intervention anti-ageing
The Obagi 360 system is designed to protect and preserve youthful skin. When you reach your 20-30s your skin begins a transition where you may still see problems like acne but also begin to worry about signs of ageing such as dullness and fine lines.
This unique skincare system contains 3 products that can address existing skin concerns whilst preventing future damage. The exfoliating cleanser works to clear clogged pores, leaving the skin soft and radiant. The 0.5% retinol works differently to that you find on the high street, this medical-grade product speeds up the cell turnover process to boost collagen and effectively minimise the appearance of fine lines and wrinkles. This is then followed by the HydraFactor moisturiser to protect the skin against UVA/ UVB rays.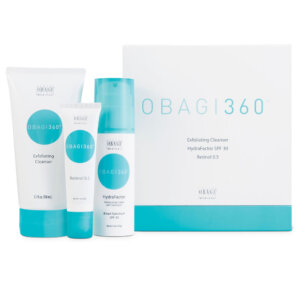 Obagi C Fx
Best for: Reserve signs of ageing & correction of uneven tone
The Obagi C Fx System works to fight signs of ageing and combat pigmentation in the skin. This system is designed towards those looking to turn the clock back slightly and regain their youthful complexion. With Vitamin C as a key ingredient, it works to brighten skin and boost collagen production.
The Obagi C Fx System is available in two different systems, tailored to either normal/ dry skin or normal/ oily skin types, so you can find the most appropriate system for you. With 5 hydroquinone-free products, this kit improves signs of ageing but provides antioxidant protection to prevent future damage; leaving your skin hydrated, smoother and beautiful.
Obagi Nuderm
Best for: Treating acne and ageing skin
Jam-packed with vitamins, antioxidants and natural extracts, the Obagi Nuderm system has been engineered to address hyperpigmentation and even out the overall appearance of your skin. If you suffer from melasma, dark spots or acne scarring, this could be a suitable system for you.
The Obagi Nuderm system works to transform your skin from the inside out, repairing damaged cells and encouraging a faster skin cell turnover. The reason this system is so effective is thanks to its key ingredient – skin-brightening arbutin.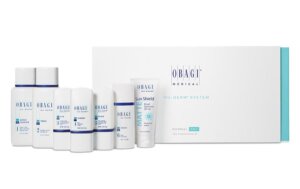 Obagi CLENZIderm M.D.®
Best for: Acne Treatment
The no.1 culprit for acne flare-ups is a bacteria that flourishes deep in your pores, meaning regular cleansers struggle to reach it. The Obagi CLENZIderm system is the ideal first line in acne treatment, it includes clinically proven ingredients to target this P.acnes bacteria at the source for a clearer, healthier-looking complexion. This system is loved by dermatologists and is recognised in the NHS as meeting NICE guidelines.
This system includes the Daily Care Foaming Cleanser which is formulated to wash away impurities, removing excess oil without stripping the skin of essential oils. Then the refreshing Pore Therapy treatment works to unclog pores and clear away any dead skin. The final Therapeutic Lotion delivers deep medication within the pores to target acne where it starts.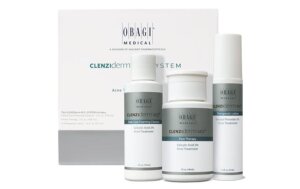 Ready to transform your skin?
Using an Obagi skincare system ensures quality products, a simplified skincare routine and, most importantly, results! Book a free consultation with Pro Aesthetics today to start your journey to better skin.
Rosey began her career in the NHS, with over 30 years' experience as a Registered General Nurse, Midwife, and Health Visitor. After 14 years of working with The Hospital Group and Transform Cosmetic Surgery, she started Pro Aesthetics. In 2018, Rosey was invited to join the world renowned and prestigious Allergan Medical Faculty.