Lip fillers are a very popular treatment and possibly one of the most popular uses for dermal fillers currently available, beating tear trough and cheeks in the running. One of the many benefits of dermal fillers and lip fillers is that they're buildable and customisable. Your results can be subtly built up with multiple treatments over time to produce natural-looking fullness that has been achieved discreetly. However, they can also be dissolved should you decide you don't want to keep your results post-treatment. Is dissolving lip fillers safe, though, and how does it work?
Dissolving lip fillers in Nottingham
Because dermal fillers are made of hyaluronic acid, a naturally occurring skin compound, they are naturally dissolved by your body over a period of 6 – 18 months. This process uses a compound called hyaluronidase. However, we can also use this substance to inject into your lips or treated area to speed up the natural dissolving. This second injectable treatment works to dissolve your lip fillers over just 2-3 days, often with you seeing noticeable results after just 24 hours. Because this treatment is a second injectable, the same treatment process is used as the dermal filler themselves. First, we perform an assessment and ensure you understand and consent to the treatment, and then we apply numbing cream before injecting the hyaluronidase into your treatment area.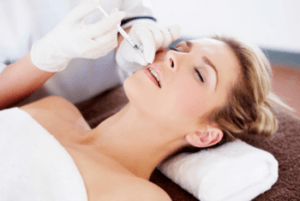 Are dissolving lip fillers safe?
Because, like the fillers themselves, this treatment uses a naturally occurring bodily material, this treatment is very safe. However, there is a small risk of an allergic reaction to the hyaluronidase injected. This reaction may cause the injected treatment to continue to dissolve the natural hyaluronic acid in your lips present there before your lip fillers treatment, so it could actually take away some of the more natural volume. This is why we ensure full consent and understanding of this treatment before we perform it, as we believe in a fully informed client as well as responsible treatment. With this in mind, you may consider simply waiting for the natural dissolving of your filler over time or opt for it anyway and replenish any lost volume with smaller amounts of dermal filler in the area. Dissolving lip fillers is only ever safe when performed by medically trained hands, so make sure you're visiting an aesthetic practitioner who is a trained medical professional.
Starting with a 'blank canvas'
Dissolving your dermal filler doesn't mean that you are opting out of the treatment forever. It's becoming increasingly popular for those who have been receiving lip fillers for years to dissolve their results and start from scratch. This is the aforementioned benefit of lip fillers being buildable because we can dissolve any existing product and start from a blank canvas to gradually shape your treatment area into different results. This is popular for those who have previously enjoyed a more glamorous and fuller pout in their youth, but instead are beginning to prefer a more natural-looking appearance. Our treatment approach can adapt to your preferences, as can the professional products we use, so we can achieve personalised results every time.
Whether you're considering lip fillers in Nottingham and Derby for the first time, are seeking a top-up treatment, or would like to dissolve your results and begin afresh, get in touch on 0115 9831097. We'll arrange with you a free consultation to understand your treatment desires and build a personalised treatment plan around you.
Keep up to date with Pro Aesthetics on Facebook and Instagram.
Rosey began her career in the NHS, with over 30 years' experience as a Registered General Nurse, Midwife, and Health Visitor. After 14 years of working with The Hospital Group and Transform Cosmetic Surgery, she started Pro Aesthetics. In 2018, Rosey was invited to join the world renowned and prestigious Allergan Medical Faculty.